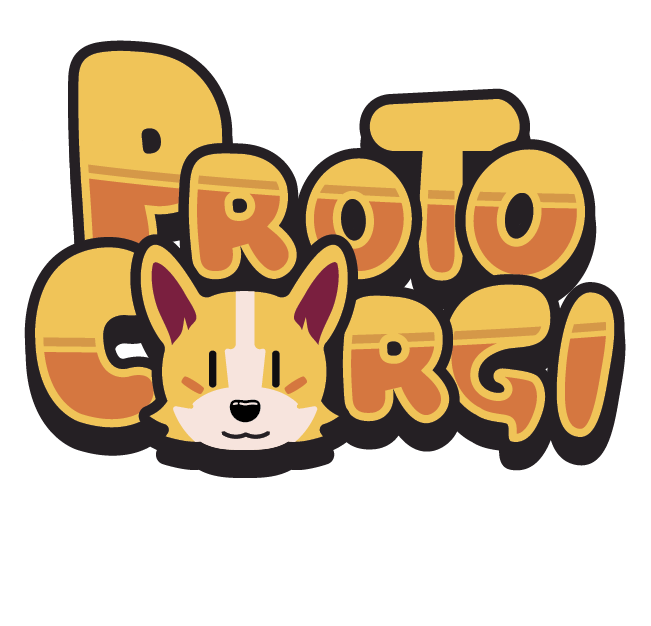 ProtoCorgi - Demo
A downloadable game for Windows, macOS, and Linux
Welcome!
We need your help!
Join Bullet, a bark hurler, laser shooter and spaceman's best friend in his quest to save his master, a brilliant cybernetics scientist abducted by an never seen before alien race that eagers to destroy all life in the universe. But be prepared, in order to save your owner you will have to cross through the very fabric of space and time.
Bark away the evil with this demo and give us your opinion as we develop our game.
We have a lot prepared for protocorgi and we can't wait to hear what you have to say!
More surprises coming in the near future, so stay tuned.
If you enjoyed the demo don't forget to follow the Devlog for more information and updates about our projects:
and our social networks: Twitter, Facebook, Youtube.
You are a few barks away from saving the galaxy.
Changelog:
v0.26:
When the player get a new powerup drop the old one at max level.
Anemone body health is reduced in later difficulties making them harder to deal with homing missiles.
Added giant fruits.
Menu reworked with framerate, full screen, screen scale and many options.
Pool most used scenes at start.
Reworked bullet system, fixes bullet layering problems, bullets dying if the enemy dies or anemone plasma beams outside sceen/after eye dying.
Fixed black hole attraction, detached anemone eyes work as intended now.
Fixed analog not working in menu.
Added secret codes.
Enemies can't be damaged or damage player outside screen. No more turret snails dying outside screen doing nothing.
Animations don't run if the objects are outside screen.
v0.25.7:
❤❤❤ Hitbox is represented now by a heart ❤❤❤
Options rotation lock added when the player is shooting.
Shield Bomb damages enemies and makes the player invulnerable.
Overdrive Bomb orbs damage enemies.
Better difficulty curve, more easy at early levels, same difficulty at end levels.
Shorten tutorials.
Fish ship master can't shot behind.
Turret snail shot are limited in early difficulties.
Greatly reduced Guardian Eye Boss health points in early difficulties.
v0.25.5:
Added full screen support (alt + enter).
Added more music.
v0.25:

Reworked suicide bullet system.
Reworked the speed of bullets and enemies in all difficulties.
Added alt, shift and control key support.
v0.24:
QoL galore.
Reworked the powerup system.
Player could change side holding Animal Spirit button.
Magnet behavior for fruits and player death drops.
Added progression.
v0.20:
QoL changes.
Highscores per difficulty.
v0.16:
Controls:
Default Demo Controls (Configurable in options):
Press Alt + Enter in keyboard for fullscreen toggle.
Keyboard:
Shoot: C
Absorb: X (Unlocked after second difficulty finished)
Animal Spirit: Z (Unlocked after first difficulty finished)
Use: S
Speed: A
Joystick:

Shoot: X
Absorb: A (Unlocked after second difficulty finished)
Animal Spirit: B (Unlocked after first difficulty finished)
Use: Y
Speed: LB
| | |
| --- | --- |
| Status | In development |
| Platforms | Windows, macOS, Linux |
| Rating | |
| Author | Kemono Games |
| Genre | Action |
| Made with | Aseprite, Godot |
| Tags | Arcade, corgi, Cute, demo, gamedev, kemonogames, kemono-games, protocorgi, Shoot 'Em Up, stg |
| Average session | A few minutes |
| Languages | English |
| Inputs | Keyboard, Xbox controller, Gamepad (any), Joystick |
| Accessibility | Configurable controls, Interactive tutorial |
| Links | Steam, Homepage, Twitter, Facebook |
Install instructions
Windows:
Download the file for your OS Version

protocorgi_demo_windows-x64.zip for Windows x64
protocorgi_demo_windows_x32.zip for Windows x32

Extract protocorgi_demo_windows_XX.zip
Run protocorgi_demo_windows_XX.exe
Linux:
Download the file for your OS Version

protocorgi_demo_linux_x64.zip for Linux x64
protocorgi_demo_linux_x32.zip for Linux x32

Make Sure that Is Executable flag is ON on downloaded file Properties > Permissions tab
Run protocorgi_demo_linux_XX
Mac:
Download protocorgi_demo_osx.zip
Run